Terra Madre is an organic food institution on High Street in Northcote and we were tasked with providing solar for them which turned out not to be as straight forward as we would have liked.
The shopfronts along High street tend to follow a pattern, mostly. There are old Victorian era facades with a long two storey box attached to them which constitutes a building of sorts. Over the last 140 years, these buildings have been added to, renovated, gutted and turned inside out so that the roofs are a nightmare for the solar installer.
Installation challenges
Terra Madre is a prime example of this. The shop is so popular that it has expanded to take over its neighbours and the interior walls modified turning it into one shop space. It's not that clear-cut though because all the shelving required makes for a tightly packed rabbit warren that is sometimes impossible to navigate with the multitudes that line up to get in.  To make matters worse, the largest part of the energy bill for the business is the enormous refrigeration and air-conditioning loads that are needed to make the shop function. Now, even though it's one shop made up of 101, 103 and 105 High Street, each has its own meter and NMI which means three separate bills and three separate systems! The largest of these bills is a whopping 540kWh/day and there is no way a solar system of sufficient size can be mounted on the roof to address this. But the owner, Ryan, coupled with the Terra Madre business principles of sustainability mean that, even if it's only a token gesture, solar should be a part of their energy mix.
On the roof, we were faced with multiple shade problems from adjacent structures, chimneys and air-conditioners and also a number of different roof types. There was also no clear cable run and we had to make-do with a tortuous path through several walls and a floor to finally reach the switch board conveniently located at the opposite end of the building. The result is not the aesthetic masterpiece our in-house team strives for but is compliant and unobtrusive. When carefully examining the building's electricals, you can easily see that previous electricians had also struggled with this complex and difficult building as there many external conduit runs.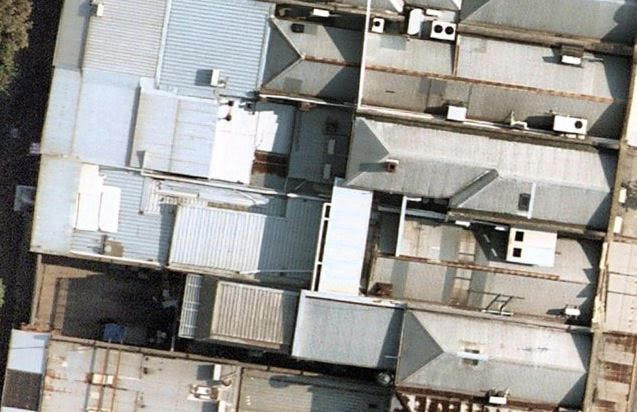 Maximising available roof space
In the end, we maximised the available rooftop on 103 High Street with 26 x 330W Trina Honey M Splitmax panels powering a Fronius 7kW SYMO inverter for an oversize ratio of 1.23 which is a pretty good outcome. We also installed a few Tigo optimizers to reduce the periodic shade risk from nearby chimneys and other shade obstructions and the whole system will be monitored by Solar Analytics. As usual, we will continue to monitor the performance of the system and report our findings. Even though the system is too small for their load, the generated energy will be totally consumed by the shop, knocking about 30kWh/day from the bill and saving them about $2850 a year with a payback period of 4 years. This exercise is a lesson that even a small system rewards you very well and that solar is still the best investment a business can make.