Residential Solar Power Systems
Homeowners that invest in residential solar power systems reap significant financial and environmental rewards from reducing their energy bills and carbon footprint to boosting the capital value of their home and increased independence from energy suppliers. EnviroGroup's long-standing relationships with some of the world's largest solar technology companies ensure that the systems we install meet industry standards as well as our customers' expectations.
Services Include
Grid Connect Solar Power
Battery and Off Grid Solutions
Solar System Monitoring
Upgrades, Maintenance and Repairs
Site Assessments and System Design
How Solar Power Works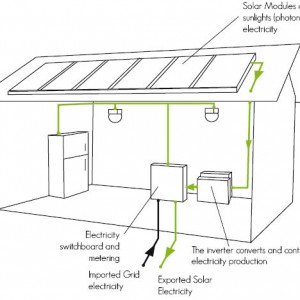 Solar panels are installed in an orientation that maximises energy gain as to off-set electricity usage within the house. When the sun is shining the solar panels generate DC power, which is sent to an Inverter and converted to 240V AC.
How the system works from there depends on whether your solar power system is grid interactive (grid connect) or stand alone (utilises battery storage).
Grid Connect Solar Power
Grid connected solar electricity systems allow the export of excess electricity during the day whilst still being able to buy electricity from the grid during times of inadequate solar production (i.e. on cloudy days or at night). Once installed they are simple to run and require very little to no maintenance.
If you are not home during the day, or not using all of the power from your solar panels, the excess power you make feeds into the electricity grid, registering as "exported" energy on your meter.
If you require more power during the day than your solar panels can supply, your system will automatically supplement your electricity requirements by buying power from the grid as per usual.
Grid Connect Solar Power – Main Components
1. Solar Panels
Solar panels convert energy from the sun into electricity.
2. Grid Interactive Inverter
An inverter is the heart of a solar power system. It takes the DC – Direct Current – electricity (produced by the solar panels), and converts it to AC – Alternating Current, 240 Volts – form which the appliances in your home need to run.
Positioning
Ideally solar power works best when positioned on a roof area facing a northerly direction, or a flat roof where we can tilt the panels up to face north. But we can also install your system on a east or west facing roof if that is all you have available, with a small amount of energy loss.
How much energy will I produce?
In Melbourne and much of southern Australia, for example, a Solar Power system will produce approximately 3.6 kWh of energy, per kW of Solar Panels installed. These figures are averaged across the year, as you will of course produce more energy in summer, and less in winter. This means if you install: 10 x 300 W Solar panels = 3000 W of installed Solar Panels (3 kW). So you will produce: 3 x 3.6 = 10.8 kWh per day.
Metering
Most houses in Victoria already have a 'bi-directional' smart meter installed at the property which is required for a solar power system installation.  In other states the situation may be different and EnviroGroup can process the paperwork on your behalf to get this installed if required.
Do I really want to go 'Off-Grid'? Stand-Alone vs Grid Interactive Solar Battery Systems
A 'stand-alone' system, also known as a RAPS (Remote Area Power System). A stand-alone solar system uses solar panels to charge large batteries which are then used to power the building during non-daylight hours. Stand-alone systems are normally only suitable for non-grid connected areas, however, in some situations a battery backup system is essential in case of power outage. Ask our solar experts about black out power protection if your home or building requires it.  If you live in a remote area, we can install a stand-alone Solar Power system as we have done for many dozens of customers including large families.
A stand-alone solar power system is generally not 'viable' from a financial point of view if you are already located in a suburban grid-connected area because the cost for batteries and other components for a stand-alone system is significantly more expensive than a grid-connect system.
Solution: Grid Interactive Solar Battery Systems (aka Hybrid Solar Battery Systems)
If you live in the suburbs or city, it may be more suitable to install a moderate to larger solar power system and install a 'grid-interactive' battery system.  It means that you still have the grid in the background to help you in case of periods of high demand, but you could be entirely independent of the grid for the rest of the year.  Installing a grid-connect system also means you can 'export' your excess solar electricity.
For more information please see our section on 'hybrid battery systems'. Note that most of the newer battery systems are designed to be installed connected to the grid, not in a 'stand-alone' context.
Accredited Installers
At EnviroGroup we believe in quality. Not just in product but in our service as well. We constantly update our products to stay competitive but we back this up with our in-house installation team. This sets us apart from from many of our competitors.
A key point of difference is our in-house installation team. Read more here.
Award winning CEC Approved retailer

We are also proud to be one of the few award-winning solar companies in Australia who are approved CEC retailers. To become a CEC Approved retailer a solar company must adhere to the Retailer Code of Conduct as set by the CEC.
The CEC Solar Retailer Code of Conduct is a way for solar companies to show commitment to responsible sales/marketing activities and industry best practice. Read more here
TESTIMONIALS
EnviroGroup provided the ultimate solar system package for us and now we have unlimited clean, green energy.

13.5kW Solar power system, battery storage & electric car charging

We received extraordinary good service and everything was explained clearly to us.

Mount Eliza

The turnaround time was very fast for us and the installation was all done very smoothly. We were highly impressed with the installers and would definitely recommend EnviroShop to others

3.5kW Solar System + Solar Hot Water

Excellent, honest and personal service all round. The installers were neat, thorough and professional. I was most impressed by the honesty and care shown by the EnviroGroup team.

3.5kW Solar System + Solar Hot Water

We were very happy with the whole process – people came when they said they would and were very friendly and helpful. Glad we went with EnviroGroup and [we] love our solar system. Thanks.

Northcote

Thanks EnviroGroup. From start to finish [it] was [a] superb job. Your tradesmen, sales, inspector and the follow-up from the office blew me away – you can use my installation for advertising anytime. Have seen many friends and hopefully they go solar with you too. Absolutely brilliant.

Solar PV System

The team was very supportive, only a phone call away. All work was done to my satisfaction.

Solar Power & Solar Hot Water

I found the service very good. [I was] really happy that the installers cleaned up afterwards.

Langwarrin

Very happy. Terrific service all round. I particularly appreciate not being pressured into a sale.

Strathmore

We appreciated the service provided by EnviroShop, their honesty and the ease of installation.

Edithvale

Prompt, confident and sympathetic service, from initial contact, to installation and afterwards.

Moonee Ponds

Everyone involved was particularly pleasant to do business with.

Warneet

Everyone at EnviroGroup definitely took pride in their work including the various installers. They looked after everything for us and we always felt like a valued customer.

St Albans
FAQs
Is there a financial incentive for installing solar power?
Absolutely! A number of Small-scale Technology Certificates (STCs), formerly known as Renewable Energy Certificates (RECs) are awarded as an effective 'incentive' aka 'Government rebate'. The larger the system the more STCs are awarded.  For typical solar system sizes of 3 kW to 5 kW you can expect to be awarded approximately $2,000 to $3,000.  EnviroGroup usually claim the STC's on the customer's behalf once installed but apply the value of the rebate as a deduction on the quotation, as a point of sale discount.
Are solar rebates really reducing?
Yes, but relatively slowly! Over the next 15 years (ending 2030), the number of STC's (Government rebates) that are awarded for solar power installations is reducing by a factor of 1/15 at the end of each year.  This may equate to only $100-$200 per year in lost certificates.
What is a 'Feed-In Tariff' and how does it affect me?
All electricity retailers will pay you for your exported power, but usually in the order of 5 – 10 cents for unit of energy (kWh) for installations after 2011. Be sure to check with your current energy retailer and shop around for a better deal if you are not happy as some offers from electricity retailers are better than others in terms of the 'peak' electricity rate, supply charges and also the feed-in tariff rate.
How long does it take to install a solar power system?
Most 2 kW to 5 kW systems are normally installed within one or two days. Some larger systems can take a few days, however installation on houses with a tin roof normally involve faster installation than houses with a tile roof. After installation, your energy retailer may take some weeks to reconfigure / install your bi-directional smart meter and providing grid connection approval. Grid connection is done entirely by the energy retailer and can take up to 8 weeks.
How many solar panels do I need to power my home?
The amount of panels needed for a household will depend on several factors. It's almost like asking "How much fuel does my car need?" It all depends on how much you intend to use your car and how you drive.
In the case of solar power, the number of panels you choose depends on:
If you wish to be carbon neutral or if you want to greatly reduce your electricity bill
The average daily electricity consumption of your household (total average for day and night)
The amount of electricity consumed in the daylight hours
On average throughout the year, a 3 kW solar power system will produce approximately 10.8 kWh of electricity per day. If you wish to be carbon neutral or completely independent of the grid by also installing a battery, you simply need to divide your daily usage (on your bill in kWh) by 3.6 to work out the kilowatt size of your system.
Can I mount the panels on any roof, no matter which way it faces?
Facing due north is typically the ideal orientation for solar panels, but panels facing east or west can often be very beneficial for home owners.  For example, west facing panels are frequently installed so that more power is produced later in the afternoon – as they will be facing the setting sun – than a north facing system.  A system can even split along two orientations and if you have microinverter system, it can be orientated in multiple orientations and angles.
This provides high returns if the home owner is more likely to use energy in the afternoon (e.g. heating/cooling, cooking, lights, kids coming home from school etc.) which is often the case for our customers.
The optimum tilt angle of the solar panels in Victoria is around 25-35 degrees which makes standard roof pitches ideal, but if you have a low angle or flat roof we can use adjustable tilt frames to bring the panels up to the ideal angle.
The solar modules used are relatively compact. A standard panel is around 1 m * 1.6 m and has an output of 250 W for industry standard panels up to around to 360 W for the most efficient brands. So for example a 3 kW system involves 9 – 12 panels and an area of approximately 9 – 12 m wide and 1.6 m high for a standard, single row, portrait layout.
No. The panels are specifically designed and certified to withstand impacts harsh weather such as hailstones. The aluminium frames are anodized for extra durability and long life. A direct lightning strike is about the only weather likely to create significant damage to a solar power system.
If I sell my property, do the solar panels affect the sale price?
Yes! Recent property sales have proven that a solar system loses very little value over its life.  It may be possible to remove the system and reinstall it on another house, however this is a costly and difficult procedure and it is not recommended. A solar power system is a very wise financial and capital investment, especially given the rising price of electricity and the growing demand for energy efficient homes.  You could ask yourself: "Would I pay a bit more for a home with low running costs?"
Will the installation involve any significant alterations to my house?
All hardware is installed with virtually no alterations to your house. For tin roofs the frames are mounted directly to the roof and for tile roofs, a few tiles are removed, the frame is mounted into the rafters and then the tiles are replaced. The cables are normally installed inside the roof, walls, or underfloor, sometimes inside of conduit depending on the system type, and only as a last resort on an external wall.  We strive to ensure minimal aesthetic impact to your home.
What happens if the panels are shaded?
Solar panels obviously require sunlight to produce electricity, but minor or light dappled shading won't dramatically reduce your system's performance. We always design our systems to avoid shading throughout the day and can recommend products that are far better at dealing with any shade impact, (such as our microinverters). This is one reason why we prefer to conduct a free assessment at your home before we provide a quotation. Ask us if you are concerned about shading.
Do I need to clean or maintain the panels?
Most solar panels are 'self-cleaning' meaning that natural rain is enough to keep them clean. If your panels are soiled simply spraying them with water should be sufficient. But if your panels are heavily soiled or your system is over 3 years old – we offer a service inspection program where a technician will inspect the system to make sure it's running as it should. We also offer a panel cleaning service.
Can I install solar panels and disconnect totally from the electricity grid?
Yes, you can, although it is usually fairly expensive to install a 'stand-alone' solar power system if you are located in a suburban grid-connected area. The cost for batteries and other components for a stand-alone system is significantly more expensive than a grid-connect system.
If you live in the suburbs or city, it may be best to install a moderate to larger solar power system and install a 'grid-interactive' battery system.  It means that you still have the grid in the background to help you in case of periods of higher demand, but you could be entirely independent of the grid for the rest of the year. Installing a grid-connect system also means you can 'export' your excess solar electricity.
Most of the newer battery systems are designed to be installed connected to the grid, not in a 'stand-alone' context. If you live in a remote area, you can install a stand-alone Solar Power system as we have done for many dozens of customers including large families.
What happens when there is a power outage?
Your solar power system will instantly shut off if the grid fails. If your system continues to produce electricity, it can risk the lives of the power line workers. This automatic shutdown also protects any electricians conducting electrical work within your home.
If required, we can design a small backup system, incorporating a solar panel, battery and inverter, that can provide you with backup power in emergency situations. Please note however that these systems come at a higher cost than the solar power system.
What are the warranties provided for the system?
All solar panels sold by EnviroGroup come with a 10 or 25 year product warranty (product dependant) and 25 year performance warranty.  The inverters we supply and install generally come with a 10 year warranty.  Our systems are also backed by our own 10 year workmanship warranty.
The standard warranties in the solar industry, on the other hand, are only 10 panel product warranty / 25 year panel performance warranty, 5 year inverter warranty, and 5 year workmanship warranty.