2020 – Metropolitan Innovation Award 
EnviroGroup installed the world's first hybrid solar and batter off-grid and relief centre for Nillumbrik Council, which won the Metropolitan Innovation Award at the 2020 Climate Awards.
2016 – CEC Annual Awards
EnviroGroup was awarded the best commercial solar installation in Australia by the CEC at their annual awards for installing a 355kWp system at Burder Industries in Wangaratta.
EnviroGroup was also a finalist for the best hybrid/battery system, which was for a large home in Victoria with a 13.5kWp system with dual battery backup and electric vehicle charging.

Our electricians are approved and accredited by the CEC. In addition to their electrical qualifications, they have undertaken training specifically for the design and/or installation of solar power systems.
Only systems designed and installed by CEC accredited people are eligible for government incentives and rebates.
CEC Approved Solar Retailer
EnviroGroup is proud to be one of the first solar companies in Australia to be approved solar retailers with the CEC.
To become a CEC approved solar retailer, a solar company must adhere to the Retailer Code of Conduct as set by the CEC.
The CEC Solar Retailer Code of Conduct is a way for solar companies to show commitment to responsible sales/marketing activities and industry best practice.
This volunteer scheme is authorised by the Australian Competition and Consumer Commission (ACCC) and is designed to lift the bar higher than the minimum requirements set by government regulations and to set a better standard of service in the industry.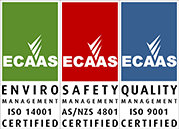 ECAAS AS/NZS 4801
Certified under the Australian Standard for Occupational Health and Safety Management.
ECAAS ISO 9001
Certified under the International Standard for Quality Management.
ECAAS ISO 14001
Certified under the International Standard for Environmental Management.