Founded in 2013, Solar Analytics is the multi-award winning Australian solar software company that gives you all the tools to track your solar performance and maximise savings.
With everything in one place, you can be confident that you solar system is performing to its full capacity and paying back your investment.
Once you connect Solar Analytics to your solar system, you will be able to see your solar production, energy consumption and more.
Take a tour of Solar Analytics
Solar Analytics collects data from your solar and energy via your solar inverter or Solar Smart Monitor to provide you with information and insights that will maximise your solar savings.
True Performance Monitoring
Solar Analytics uses patented algorithms to accurately calculate the amount of energy your solar system should be generating.
This allows you to see if your solar is performing as it should. Any issues can be quickly identified by a simple glance at your production dashboard and rectified with minimal impact to your solar generation.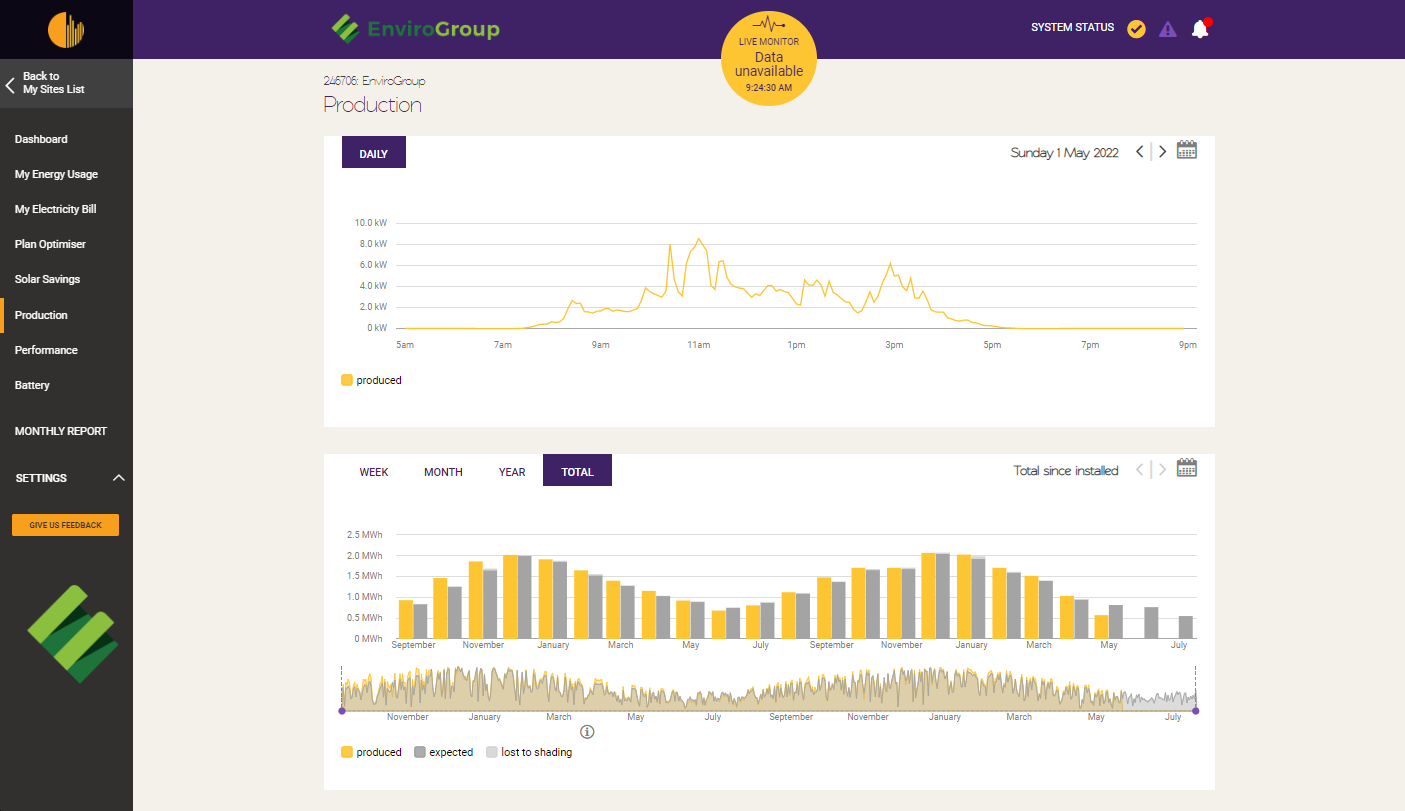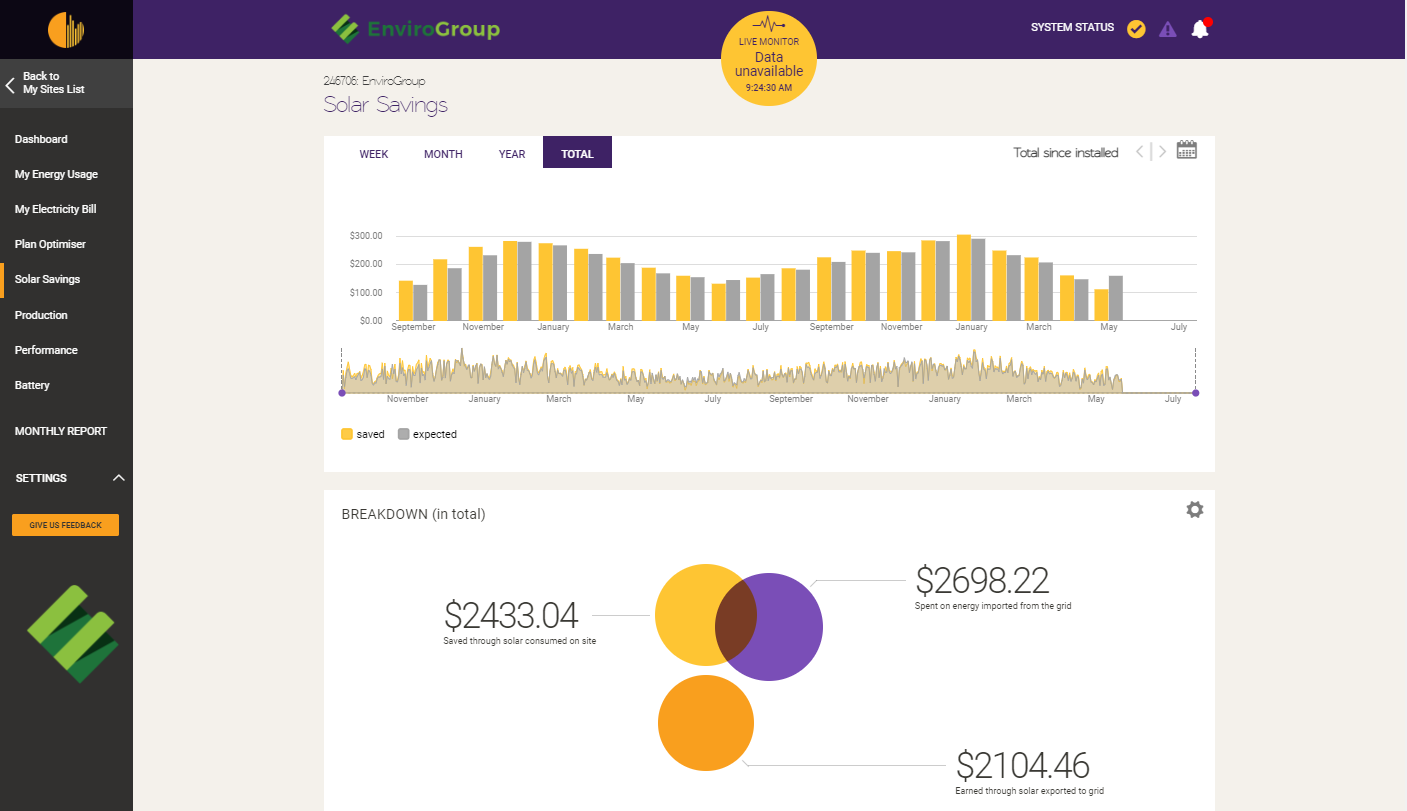 Solar Savings Tracker
Watch your savings grow from day one. Your Solar Savings Dashboard shows how much savings your solar system is delivering and makes it easy to track payback of your investment.
The kWh produced will all be translated into dollars and even show you the right time to invest in a battery.
Plan Optimiser
Using your actual household solar and overall energy data, you can compare the energy plans on offer in real time and choose one that provides the most savings for your household or business.
Solar Analytics provides an objective comparison and arms you with automatic updates on the potential savings you could make at any given time.
What are the benefits of Solar Analytics
Working together with EnviroGroup, Solar Analytics is here to ensure you get more from your solar system.
Greater control over your energy bill
You will be able to see your solar production and energy usage at all hours of the day, enabling you to optimise how and when you use your energy.
Using analytics, you will be able to gain a greater understanding of the savings from your solar and in turn, determine the right energy plan for your home or business.
Be confident in your solar system
You will always know how your solar is performing and if something is wrong, quick identification and rectification is possible.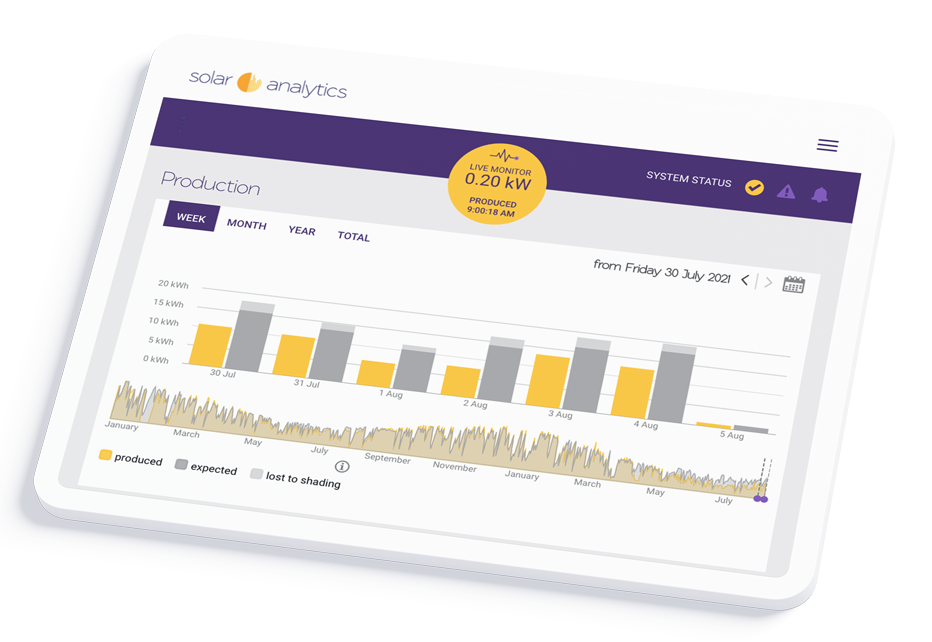 Chat to EnviroGroup
At EnviroGroup, we believe in quality. Not just in product but in service as well. Contact our Service team today to find out how Solar Analytics can maximise your solar savings.