Our Team
EnviroGroup is made up of a team of experts in commercial and residential energy solutions. The team has a broad combined experience working in renewable energy, large battery storage, engineering, electrical services, sustainability consulting and delivery of major projects.
We employ more than 35 staff, including experienced consultants, project managers, photo-voltaic engineers, energy auditors, accredited solar designers, licensed installers, electricians and lighting designers.
Qualified and friendly, our team works in partnership with businesses, schools and universities, government bodies and community groups, and is experienced in the management of grant submissions to Federal and State Governments.
Key Staff
Mick Harris: Managing Director
Mick is a pioneer of the renewable energy industry with more than 40 years' experience in the design, construction and installation of renewable energy systems. He has extensive knowledge of solar power and battery systems, solar hot water, lighting and energy efficiency systems. He is a trained PV systems designer and commercial energy auditor.  Mick is the founder of the ATA International Projects Group which has installed more than 1000 solar power systems in East Timor.
Sharvil Jumle: Principal Electrical Engineer
CEC Accredited Designer; Electrical Engineer
Sharvil has extensive electronic engineering experience in Australia and overseas. He is highly qualified, holding a Master of Electrical, Renewable Engineering & Management Degree; a Bachelor of Electronics & Communications Engineering; and Clean Energy Council Accredited Designer certifications. He has contributed to some of EnviroGroup's most complex and inventive system designs including the flagship NAB HQ solar PV installation at 700 Bourke Street, Melbourne.
Chris Bertram: Technical Adviser / Site Supervisor
A-Grade Electrician
As a Technical Supervisor at EnviroGroup Chris oversees a wide range of electrical work and projects.  Chris has extensive battery installation experience, and acted in a vital capacity for the Tesla Powerwall roll out in Australia. Chris is very experienced in liaising with all project stakeholders to ensure projects are delivered to the highest standards.
Marcus Keam: Project Manager
Marcus holds a Bachelor degrees in Mechanical Engineering & Business Management. He has over 10 years of experience managing automotive projects, with larger projects involving multiple supplier and manufacturing locations across Asia. He brings a wealth of knowledge in regards to structure and processes to keep projects running on time and to budget to meet customers' expectations.
Gabriela Gauthier: Tenders / Project Officer
Gabriela is our dedicated commercial tender leader. She coordinates solar PV projects, which have required scheduling of works, client liaison, OHS and environmental risk management processes, product delivery processes and specifications documenting and project report writing.
Grant Howard: Project Manager
A-Grade Electrician
Grant has worked in a diverse range of multi-disciplinary, hands-on electrical positions as a qualified A-grade. He is proficient in leading teams of electricians, apprentices and tradespeople on solar and energy efficient lighting projects. He is effective in managing of labour to meet time sensitive deadlines on commercial installations.
Vision and Mission
At EnviroGroup, success is measured through energy efficiency and cost reduction.
This means providing the very best renewable energy solutions to customers across a range of industries – from business and residential through to government and education.
We add value to your business and your home through sustainable solutions that lower overheads, increase efficiency and boost your competitive edge.
Experienced Inhouse Installation Team
EnviroGroup's installation team is made up of fully accredited and qualified specialists who have experience installing renewable energy systems in both the commercial and residential market sectors. Rather than outsourcing installation, our team of installers work with us inhouse. This is part of our commitment to full-service solutions.
EnviroGroup upholds the highest quality and safety standards, working with AS 4801, ISO 9001 and ISO 14000 systems. We maintain exemplary onsite work practices and offer excellent post-installation support. Our work is also covered by a five-year workmanship guarantee.
Our Expertise
EnviroGroup offers a complete solution to your commercial energy needs. Our team is skilled across a range of disciplines and work together to develop your comprehensive energy plan.
Our team can help you with:
Commercial Energy Systems
Tender Management
Project Management & Facilitation
Commercial Finance
Electrical Engineering
Retrofits
Retrofits
Certifications
CEC accreditation:
In addition to being a CEC approved retailer, EnviroGroup only use CEC accredited installers.
"Solar PV accreditation is a qualification that demonstrates competence in design and/or installation of solar power systems. To be eligible for government incentives such as RECs, solar credits and feed-in tariffs the installer must be accredited by the Clean Energy Council" – CEC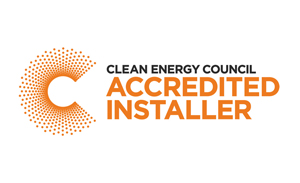 ECAAS Certification:
EnviroGroup are certified under the Australian Standard for Safety Management, and the International Standards for Quality Management and Environmental Management. We take our responsibilities seriously, enabling us to deliver high value and high quality projects on time.