Our Team
EnviroGroup is made up of a team of experts in commercial and residential energy solutions. The team has a broad combined experience working in renewable energy, large battery storage, engineering, electrical services, sustainability consulting and delivery of major projects.
We employ more than 35 staff, including experienced consultants, project managers, photo-voltaic engineers, energy auditors, accredited solar designers, licensed installers, electricians and lighting designers.
Qualified and friendly, our team works in partnership with businesses, schools and universities, government bodies and community groups, and is experienced in the management of grant submissions to Federal and State Governments.
Key Staff
Mick Harris: Managing Director, industry icon and electrical apprentice
Mick is a pioneer of the renewable energy industry with more than 40 years' experience in the design, construction and installation of renewable energy systems. He has extensive knowledge of solar power and battery systems, solar hot water, lighting and energy efficiency systems and is a trained PV systems designer and commercial energy auditor.  Mick is the founder of the ATA International Projects Group which has installed more than 1000 solar power systems in East Timor.
Mick was also one of the pioneers of CERES in Brunswick, a sustainability centre dedicated to the teaching of environmentally sound practices and many of the power systems still in use were built by him. These principles were a foundation for the early Enviroshop culture and still endure as we evolved into the solar engineering machine, Envirogroup.
At some point in 2019, Mick decided to become an apprentice. Probably so he can wear hi-viz around the office.
Sharvil Jumle: Principal Electrical Engineer
CEC Accredited Designer; Electrical Engineer
Sharvil has extensive electronic engineering experience in Australia and overseas. He is highly qualified, holding a Master of Electrical, Renewable Engineering & Management Degree; a Bachelor of Electronics & Communications Engineering; and Clean Energy Council Accredited Designer certifications. He has contributed to some of EnviroGroup's most complex and inventive system designs including the flagship NAB HQ solar PV installation at 700 Bourke Street, Melbourne.
Chris Bertram: Technical Adviser / Site Supervisor
A-Grade Electrician
As a Technical Supervisor at EnviroGroup Chris oversees a wide range of electrical work and projects.  Chris has extensive battery installation experience, and acted in a vital capacity for the Tesla Powerwall roll out in Australia. Chris is very experienced in liaising with all project stakeholders to ensure projects are delivered to the highest standards.
Marcus Keam: Project Manager
Marcus holds a Bachelor degrees in Mechanical Engineering & Business Management. He has over 10 years of experience managing automotive projects, with larger projects involving multiple supplier and manufacturing locations across Asia. He brings a wealth of knowledge in regards to structure and processes to keep projects running on time and to budget to meet customers' expectations.
Gabriela Gauthier: Tenders / Project Officer
Gabriela is the glue that binds all the divisions of the company together. Nobody knows what her actual role is but everyone needs her and frequently. Gaby gets things done and fast. Not only that, she will actually ask you if you need anything done and then take it off your hands and do it. We all love Gaby. She can never leave.
Grant Howard: Project Manager
A-Grade Electrician
Grant has worked in a diverse range of multi-disciplinary, hands-on electrical positions as a qualified A-grade. He is excellent in leading teams of electricians, apprentices and tradespeople on solar and energy efficient lighting projects. He is effective in managing of labour to meet time sensitive deadlines on commercial installations and is instrumental in enforcing Envirogroup's quality policy.
Brad McPherson – Sales & Marketing Manager
Electronic Engineer
Brad is a veteran of the solarcoaster having worked for a number of leading solar firms in Victoria and NSW often operating alone in the outback for months on end. He is responsible for all the quoting and tendering for all projects whether residential, commercial or government and maintaining the countless relationships Envirogroup has developed over the years.
Paul Blackman: Commercial Business Manager
Another long-serving industry veteran, Paul has seen it all before and is a vital cog in the complex Envirogroup machine; the go-to man for handling detailed commercial relationships and multi-stage projects. Paul has seen the ups and downs of the industry over the years and is a steadying influence on the business when the industry goes crazy.
Vision and Mission
At EnviroGroup, success is measured through delivering outcomes above and beyond our clients' expectations.
This means providing the very best renewable energy solutions to customers across a range of industries – from business and residential through to government and education. The quality of our work and the reputation we hold is unparalleled in the industry which is why we are the choice company for dozens of local governments and large commercial interests. Our residential customers return to us for more when buying a new house or upgrading an existing one.
We add value to your business and your home through sustainable solutions that lower overheads, increase efficiency and boost your competitive edge whilst at all times exceeding the standards.
Experienced Inhouse Installation Team
EnviroGroup's installation team is made up of fully accredited and qualified specialists who have experience installing renewable energy systems in both the commercial and residential market sectors. Rather than outsourcing installation, our team of installers work with us inhouse. This is part of our commitment to full-service solutions.
EnviroGroup upholds the highest quality and safety standards, working with AS 4801, ISO 9001 and ISO 14000 systems. We maintain exemplary onsite work practices and offer excellent post-installation support. Our work is also covered by a five-year workmanship guarantee.
Our Expertise
EnviroGroup offers a complete solution to your commercial energy needs. Our team is skilled across a range of disciplines and work together to develop your comprehensive energy plan.
Our team can help you with:
Commercial Energy Systems
Tender Management
Project Management & Facilitation
Commercial Finance
Electrical Engineering
Retrofits
Certifications
CEC accreditation:
In addition to being a CEC approved retailer, EnviroGroup only use CEC accredited solar installers.
"Solar PV accreditation is a qualification that demonstrates competence in design and/or installation of solar power systems. To be eligible for government incentives such as RECs, solar credits and feed-in tariffs the installer must be accredited by the Clean Energy Council" – CEC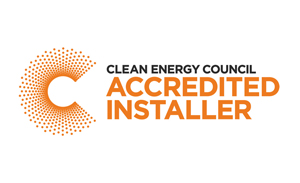 ECAAS Certification:
EnviroGroup are certified under the Australian Standard for Safety Management, and the International Standards for Quality Management and Environmental Management. We take our responsibilities seriously, enabling us to deliver high value and high quality projects on time.