There's a whole lot more to a solar power system than solar panels but for most people the journey starts where the rays hit the crystal and the magic begins. Great panels make a system and poor panels break hearts. Don't get this part wrong! There are hundreds of panel makers but only a dozen or so that have a real pedigree. Envirogroup choose panels based on the following criteria:
The manufacturer must be at the top of the game and they must have been at the top for some time. This is what is termed "bankability" and it means how securely can you invest with that company. These companies are often referred to as Tier 1 but there are plenty of companies not in the Bloomberg Tier 1 list who are bankable and make great products. Please see our guide for what Tier 1 means and why you should probably ignore it.
The panels themselves must be a proven product for reliability and performance. That means extremely low and measurable global failure rates and a record of rapidly responding to warranty issues.
The panel maker should have serious R&D credentials and offer a range that includes the cutting edge of panel tech.
The manufacturer must have an Australian physical presence and local representation.

SunPower are acknowledged throughout the solar industry as the best solar panel available. Having a strong history in R&D, the solar industry has many SunPower developments to thank for its advanced technology.

Trina Solar are the world's largest producer of solar panels found in countless large-scale solar farms as well as commercial and residential rooftops world wide. We have been confidently deploying them for nearly a decade.
CERTIFICATIONS
CEC accreditation:
In addition to being a CEC approved retailer, EnviroGroup only use CEC accredited solar installers.
"Solar PV accreditation is a qualification that demonstrates competence in design and/or installation of solar power systems. To be eligible for government incentives such as RECs, solar credits and feed-in tariffs the installer must be accredited by the Clean Energy Council" – CEC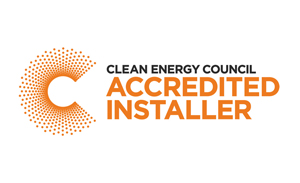 ECAAS Certification:
EnviroGroup are certified under the Australian Standard for Safety Management, and the International Standards for Quality Management and Environmental Management. We take our responsibilities seriously, enabling us to deliver high value and high quality projects on time.