Whilst Fronius have slipped ahead of SMA in Australia for the dominant inverter, globally it's a different story. SMA are the most dominant inverter manufacturer in the World. They have a powerful presence in residential and commercial solar but importantly, they are the king of utility scale solar installations. Up until about 2016, SMA were the benchmark inverter and perceived universally as the best and most reliable. Now, there is stiff competition, not only from Fronius but a number of excellent Chines brands who have stepped up their quality and reliability and captured a lot of market share. But despite this, SMA still rule as the inverter with the longest lifespan and unquestioned reliability. Envirogroup have systems we installed over a decade ago with early Sunnyboys and Tripowers which are still powering on quite happily and show no signs of giving the game away.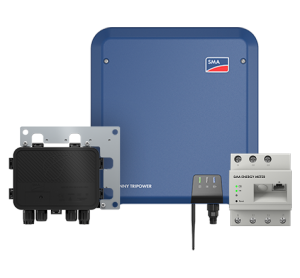 The new range of Sunnyboys, have addressed some of the technical aspects that saw Fronius zoom ahead so now we have SMA's rock-solid reliability as well as built in Wifi, Optitrac shade management and SunnyPortal for monitoring. That reliability is reflected in the SMA Smart Connected programme where your inverter is monitored by SMA after you have registered on SunnyPortal and can discover and respond to faults even before you know it.
In 2016, SMA bought a large stake in Tigo Energy who make a range of solar optimizer products. This partnership allowed SMA to incorporate into its inverters the TS4-R module technology which provides the perfect interface with the Tigo optimizer hardware enabling flexible shade management in our PV designs.
Three of the most popular models offered by SMA are:
The residential model, the SMA 'Sunny Boy'. The most common inverter in the world, there are over 1 million installed globally, including thousands of EnviroGroup customers.
The commercial model, the SMA ' Tripower' is one of the most popular commercial solar inverters in Australia, and has been used in hundreds of EnviroGroup projects since 2010.
Sunnyboy Storage. Before batteries were commonplace in homes, SMA were already leaders in battery inverter technology. The Sunny Boy Storage inverter is compatible with leading battery brands such as Tesla Powerwall, LG Chem and BYD.