Residential Solar Power Systems
Homeowners that invest in residential solar power systems reap significant financial and environmental rewards from reducing their energy bills and carbon footprint to boosting the capital value of their home and increased independence from energy suppliers. EnviroGroup's long-standing relationships with some of the world's largest solar technology companies ensure that the systems we install meet industry standards as well as our customers' expectations. We don't engage in high pressure sales tactics, we are a smaller scale solar and battery specialist that can offer a genuine bespoke solar solution.
Services Include
Grid Connect Solar Power
Battery and Off Grid Solutions
Solar System Monitoring
Upgrades, Maintenance and Repairs
Site Assessments and System Design
How Solar Power Works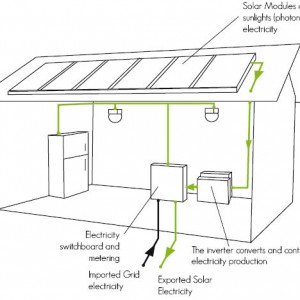 Solar panels are installed in an orientation that maximises energy gain as to off-set electricity usage within the house. When the sun is shining the solar panels generate DC power, which is sent to an Inverter and converted to 240V AC.
How the system works from there depends on whether your solar power system is grid interactive (grid connect) or stand alone (utilises battery storage).
Grid Connect Solar Power
Grid connected solar electricity systems allow the export of excess electricity during the day whilst still being able to buy electricity from the grid during times of inadequate solar production (i.e. on cloudy days or at night). Once installed they are simple to run and require very little to no maintenance.
If you are not home during the day, or not using all of the power from your solar panels, the excess power you make feeds into the electricity grid, registering as "exported" energy on your meter.
If you require more power during the day than your solar panels can supply, your system will automatically supplement your electricity requirements by buying power from the grid as per usual.
Grid Connect Solar Power – Main Components
1. Solar Panels [Read more here]
Solar panels convert energy from the sun into electricity.
2. Grid Interactive Inverter [Read more here]
An inverter is the heart of a solar power system. It takes the DC – Direct Current – electricity (produced by the solar panels), and converts it to AC – Alternating Current, 240 Volts – which the appliances in your home need to run.
Positioning
Ideally solar power works best when positioned on a roof area facing a northerly direction, or a flat roof where we can tilt the panels up to face north. But we can also install your system on a east or west facing roof if that is all you have available, with a small amount of energy loss.
How much energy will I produce?
In Melbourne and much of southern Australia, for example, a Solar Power system will produce approximately 3.6 kWh of energy, per kW of Solar Panels installed. These figures are averaged across the year, as you will of course produce more energy in summer, and less in winter. This means if you install: 10 x 300 W Solar panels = 3000 W of installed Solar Panels (3 kW). So you will produce: 3 x 3.6 = 10.8 kWh per day.
Metering
Most houses in Victoria already have a 'bi-directional' smart meter installed at the property which is required for a solar power system installation.  In other states the situation may be different and EnviroGroup can process the paperwork on your behalf to get this installed if required.
Do I really want to go 'Off-Grid'? Stand-Alone vs Grid Interactive Solar Battery Systems
A 'stand-alone' system, also known as a RAPS (Remote Area Power System). A stand-alone solar system uses solar panels to charge large batteries which are then used to power the building during non-daylight hours. Stand-alone systems are normally only suitable for non-grid connected areas, however, in some situations a battery backup system is essential in case of power outage. Ask our solar experts about black out power protection if your home or building requires it.  If you live in a remote area, we can install a stand-alone Solar Power system as we have done for many dozens of customers including large families.
A stand-alone solar power system is generally not 'viable' from a financial point of view if you are already located in a suburban grid-connected area because the cost for batteries and other components for a stand-alone system is significantly more expensive than a grid-connect system.
Solution: Grid Interactive Solar Battery Systems (aka Hybrid Solar Battery Systems)
If you live in the suburbs or city, it may be more suitable to install a moderate to larger solar power system and install a 'grid-interactive' battery system.  It means that you still have the grid in the background to help you in case of periods of high demand, but you could be entirely independent of the grid for the rest of the year.  Installing a grid-connect system also means you can 'export' your excess solar electricity.
For more information please see our section on 'hybrid battery systems'. Note that most of the newer battery systems are designed to be installed connected to the grid, not in a 'stand-alone' context.
Accredited Installers
At EnviroGroup we believe in quality. Not just in product but in our service as well. We constantly update our products to stay competitive but we back this up with our in-house installation team. This sets us apart from from many of our competitors.
A key point of difference is our in-house installation team. Read more here.

Award winning CEC Approved retailer
We are also proud to be one of the few award-winning solar companies in Australia who are approved CEC retailers. To become a CEC Approved retailer a solar company must adhere to the Retailer Code of Conduct as set by the CEC.
The CEC Solar Retailer Code of Conduct is a way for solar companies to show commitment to responsible sales/marketing activities and industry best practice. Read more here
TESTIMONIALS
EnviroGroup provided the ultimate solar system package for us and now we have unlimited clean, green energy.

13.5kW Solar power system, battery storage & electric car charging

We received extraordinary good service and everything was explained clearly to us.

Mount Eliza

The turnaround time was very fast for us and the installation was all done very smoothly. We were highly impressed with the installers and would definitely recommend EnviroShop to others

3.5kW Solar System + Solar Hot Water

Excellent, honest and personal service all round. The installers were neat, thorough and professional. I was most impressed by the honesty and care shown by the EnviroGroup team.

3.5kW Solar System + Solar Hot Water

We were very happy with the whole process – people came when they said they would and were very friendly and helpful. Glad we went with EnviroGroup and [we] love our solar system. Thanks.

Northcote

Thanks EnviroGroup. From start to finish [it] was [a] superb job. Your tradesmen, sales, inspector and the follow-up from the office blew me away – you can use my installation for advertising anytime. Have seen many friends and hopefully they go solar with you too. Absolutely brilliant.

Solar PV System

The team was very supportive, only a phone call away. All work was done to my satisfaction.

Solar Power & Solar Hot Water

I found the service very good. [I was] really happy that the installers cleaned up afterwards.

Langwarrin

Very happy. Terrific service all round. I particularly appreciate not being pressured into a sale.

Strathmore

We appreciated the service provided by EnviroShop, their honesty and the ease of installation.

Edithvale

Prompt, confident and sympathetic service, from initial contact, to installation and afterwards.

Moonee Ponds

Everyone involved was particularly pleasant to do business with.

Warneet

Everyone at EnviroGroup definitely took pride in their work including the various installers. They looked after everything for us and we always felt like a valued customer.

St Albans