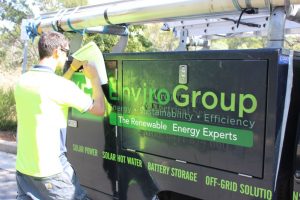 5 months. 6 installations per day. 444 solar systems. One team.
EnviroGroup has just wrapped up one of the largest residential solar bulk buy programs in Australian history in partnership with Darebin City Council. The Solar Savers initiative, an essential component of its Climate Emergency Plan for 2017, has delivered solar power to 444 households across Northcote, Preston, Reservoir, Thornbury and Macleod.
The program made energy-saving through solar affordable for countless households by providing no interest, no GST loans paid through residents' rates over 10 years. This means the energy generated will outweigh the cost of the systems from day one.
EnviroGroup's Reahan Martin, in cooperation with Darebin Council's Sally McAdams and Gavin Mountjoy, ensured every single install met extremely high quality, safety and technical standards. Using all our in-house might, EnviroGroup dedicated expert logistic resources to seamlessly provide the scheme.
Congratulations to the EnviroGroup staff who worked tirelessly to deliver the program and to the Council for leading the way for sustainable councils across Victoria.