There has been an announcement this week that Sunpower is to split in half and there will be a distinction between the company's panel manufacturing and the system installation divisions. There are also pundits in the industry saying this will be the kiss of death for Sunpower and certainly at Envirogroup, who are Premium partners, there was initial concern at the move.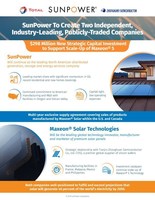 However, when the dust settled on the announcement it appears not much has changed and, in fact, Sunpower has been operating with this distinction for some time. This move formalizes the separation of the divisions with the panel making to become known as Maxeon Solar (after the panels of the same name) and the installation division of the US remaining as Sunpower. You can read the detail here:
How does this effect Envirogroup and our Sunpower customers?
Well, it doesn't, really. The panels will still be made the same way, from the same factories and to the same exacting Sunpower standards. Your warranties will be just as they were and the move will probably improve the Sunpower logistics process. Even from a sales point of view, Maxeon Solar will be maintaining the Sunpower brand and before long nobody will even know this happened. What is likely, though, is that the injection of capital into Maxeon Solar will allow more R&D and, who knows, with Sunpower's reputation as the industry's leading patent holder, we could be seeing some very exciting innovation in the next few years.
We will continue to support the Sunpower brand because even with some very good competition, Sunpower are still the best panel on the market. With a Sunpower system installed by Envirogroup, you can be sure that you have the best possible outcome for your system with the longest lifespan, best production and lowest possible chance of failure.