Looking to add a solar battery to your renewable energy system? Redback's Smart Battery System is designed for Australian conditions and provides between 4.8kW to 28.4kW storage capacity. 
More importantly, stock is available now. 
Demand for solar and solar batteries is higher than ever in Victoria, but supply of solar batteries appears to be lagging. Locally owned and operated, Redback Technologies is here to provide the technology you need, right now. You can access a robust solar battery at an affordable price point today.
Australian owned and designed for the Australian climate.
By adding a battery to your solar system, you will maximise the solar energy your home is producing. This means less reliance on the grid and fossil fuels. And in the unfortunate situation of a blackout, you can still keep your home running. 
How does the solar battery work?
The sun is available between certain hours. Generally, your solar panels will be able to produce solar energy when the sun is around. However, with the post-pandemic world, most of us are not at home anymore during the day. We tend to require power in the morning and later in the evening when we return home.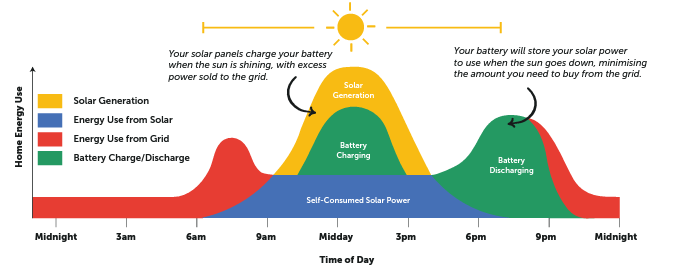 A solar battery system allows you to store excess energy that is produced during the day for use later, when you need it. With this storage technology, you reduce your reliance on the grid. You also save immensely on your energy bill.
The Redback Smart Battery System
Redback Technologies has a range of solar battery solutions available to suit different homes and businesses.
For households, you may benefit from the Redback Smart Hybrid System which is designed to maximise the benefits from your solar system. Suitable for single-phase homes that have two to four bedrooms, you can install your solar system and your battery at the same time, eliminating the need for a separate inverter and battery.
For three-phase homes that contain five to six bedrooms and have an overall high energy consumption, you may find the Redback Smart 3-Phase Hybrid System to be more suitable.
If you are a business owner, Redback also has a solar battery solution for you that will provide great savings on your commercial energy bill. 
As a preferred installer, our team at EnviroGroup are experts in providing the best Redback solar battery solution for your home or business.
Ask us today and get access to a robust Redback solar battery solution!