EnviroGroup and Enhar are in the final stages of installing one of Victoria's biggest solar battery systems for Nillumbik Shire Council! Located less than 25 kilometres from Melbourne's city centre, Nillumbik's Community Bank Stadium is now the region's main Bushfire Refuge Area – thanks to the solar battery system that can run the facility in off-grid mode during times of emergency.
EnviroGroup's most recent project with Nillumbik Shire Council demonstrates our strong commitment to Nillumbik's Climate Action Plan. The system reduces the Council's operational reliance on fossil fuels, grid power, the cost of electricity and the cost of purchasing carbon offsets.
Our highly experienced electrical engineers and electricians working in conjunction with Enhar's engineering team designed a backup system to supply a huge amount of power – 100 kW solar system during the day, operating facilities and charging its 100 kWh battery system. For most of the year, batteries will be discharged during the evenings, operating the local sports facilities and gym. During bushfire season, EnviroGroup's unique design and advanced battery management technologies installed will prevent the batteries from discharging overnight, so that there is plenty of power stored in case of emergencies.
This flagship project includes the following equipment:
100 kW of Trina 300 W panels (333 panels)
Sonnenschein Lithium Ion batteries (German made)
100 kWh capacity in a battery container
12 x 8.2 kW Fronius Solar Inverters
Selectronic battery inverters (Australian made)
Bushfire status and system performance displayed on LCD screen at facility
A unique aspect of this type of solar battery backup system is that it simultaneously addresses climate change adaption and climate change mitigation. As bushfires become more regular and intense in the highly forested and populated area of Nillumbik, employing advanced technologies to keep our communities safe is essential. At the same time, we are also reducing their environmental footprint (not to mention their electricity bills!).
We have also installed a recharge station on site for charging EVs, adding to the region's growing number of charge points.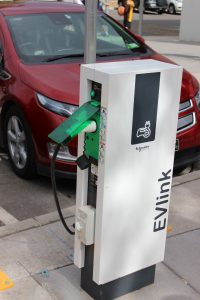 It has been such a pleasure to work with the good staff at Nillumbik Council who serve their community so well. Thanks for putting your trust in EnviroGroup, we look forward to working with you again in future.