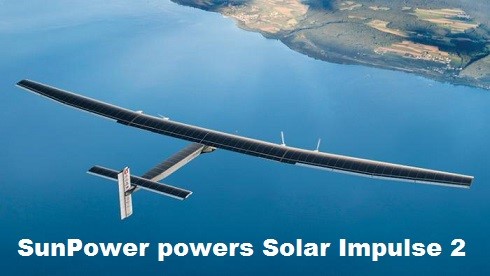 SunPower's newest solar panel model is a rare example of when new technology at a price never seen before radically changes the market place for consumers.
Regarded by almost everyone as the best solar panels on the planet, this brand from the USA has now released to Australia their newest module known as the 'P-19 series'.
This panel series boasts a super high efficiency with their modules ranging from 315 W to 325 W.
SunPower have been in business for over 30 years and are famously used on the most cutting-edge solar projects in the world such as solar planes (Solar Impulse 2 – image above), NASA robots, giant solar yachts and solar racing cars. Some of their bigger modules (commercial applications only) are now up to 470 W!
The new P-19 series attracts the famous SunPower product warranty of 25 years (compared to industry standard 10 years).
Best of all they are available at a fraction of the price compared to their previous models. You can save thousands by choosing SunPower P-19s while still getting the world's best equipment.
---
Another huge win for the new SunPower panels is that they are (finally) compatible with Enphase microinverters! This has been an issue for both Enphase and SunPower for many years. We are very excited to see two of the best solar brands in the world together at last on our customers' roofs.

Advantages of microinverters compared to traditional 'string' inverters:
electrically safer
each panel produces power independently – rather than in a team of panels – which means that panels with microinverters all operate at maximum efficiency
your solar system can take advantage of more roof spaces than a string inverter giving you more flexibility
you can easily expand your system at a later date
comes with probably best monitoring system available, as standard
less visible equipment at ground level; fewer points of failure.
Call us today to discuss the new range of microinverters and how they can make your solar system run more efficiently.