This article originally appeared in Renew. The content and link to the original article appears below.
As the Alternative Technology Association enters a new phase with its name change to Renew, one of the founders Mick Harris —still active as a technical expert for the organisation—talks to Anna Cumming about the early days of the organisation and his own life in sustainability advocacy.
In his teens in Melbourne in the 1970s, Mick Harris was a member of the Alternative Technology Co-operative, a group instigated by fellow enthusiast Stephen Ingrouille that grew out of Friends of the Earth. "We got together and built stuff like solar water heaters," Mick recalls. When the group wound down, he decided to set something up with a more formal structure, and the Alternative Technology Association was born.
"We went to our first sustainability fair in 1980, with a trestle table and some displays, touting for members," says Mick. Their objectives will sound familiar to Renew members today: to promote sustainable technologies, energy efficiency and renewable energy. "Back then, renewable energy was really the intersection of alternative lifestyles and DIY amateur electronics: put them together and you got what the ATA was all about."
Mick himself got into electronics at school, and then studied environmental studies (focusing on science) as part of his teacher training. "In an early teaching job, I worked with the kids to build a Savonius wind turbine out of a 44 gallon drum," he recalls. "It eventually became one of the ATA's earliest displays."
Later, while working for the council-owned Brunswick Electricity Supply, Mick was part of the group that set up CERES, the not-for-profit environmental park on an old landfill site on the banks of Merri Creek. It was here that the ATA built its first base, a solar workshop. "In those days solar panels weren't powerful enough to run anything," he says. "Solar referred to passive solar design and solar hot water." They started building with volunteer labour and a budget of about $11,000. "It took about four years of weekends. At the same time we were running meetings and activities and producing the magazine [Soft Technology, later renamed ReNew]."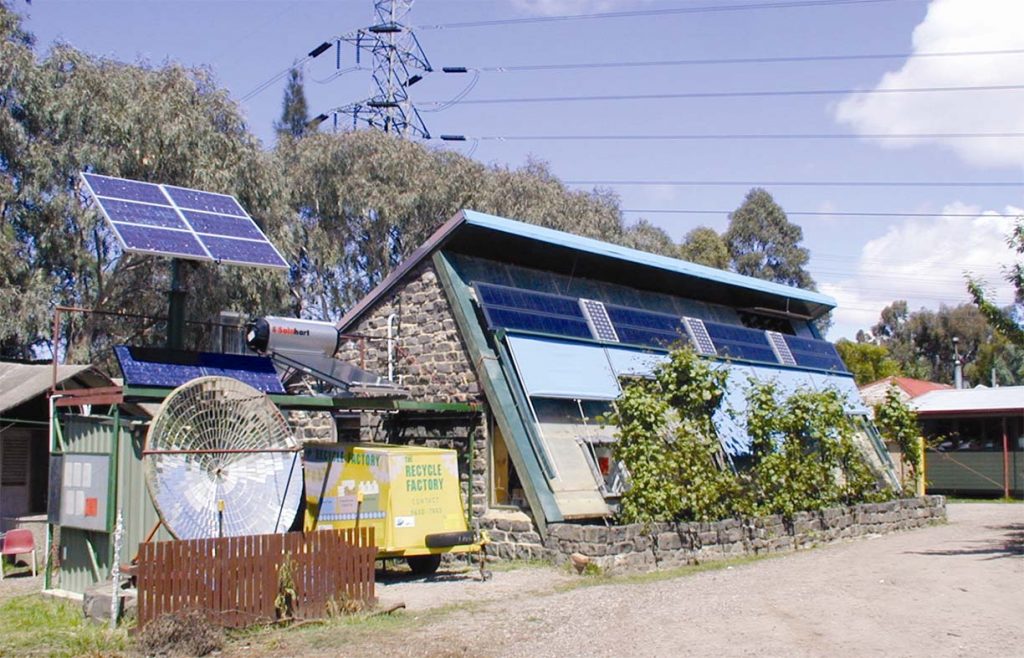 The Alternative Technology Association's 'solar workshop', built with volunteer labour at CERES Environment Park in Melbourne's Brunswick.The ATA grew, and Mick became a part-time, then a full-time staffer, then General Manager. "ReNew magazine went from black and white to colour, the print run from hundreds to thousands, then we got national distribution through newsagents and bookshops. That was a bit of a coup," he remembers.
In the early 1990s, the ATA had various trailers and finally the 'Energymobile'—a small semi-trailer—fitted out with renewable energy and energy efficiency displays and demonstrations, that Mick and his colleagues took to shows. The Energymobile toured Australia. Mick explains the thinking behind this approach. "Although the philosophy behind the ATA came out of environmental advocacy groups focused on campaigning, the ATA has always been different. The focus is practical: doing, not talking. The important question has always been: What are the practical solutions for you to make your life more sustainable? Also, we wanted to appeal to people across the political divide."
Mick left the ATA as an employee in 1995, but has remained involved in the organisation while working for the Wilderness Society and Darebin Council, and starting his own business (The Environment Shop, now EnviroGroup). He was instrumental is setting up the ATA's International Projects Group, which has been bringing solar power to remote East Timorese villages since 2003, and still volunteers his time and expertise to give technical advice to the organisation's members.
Nearly 40 years on, Mick is enthusiastic about the future. "The wonderful thing is that we're winning," he declares. "Sustainability and renewable energy are entrenched now, they make economic sense, and can't be stopped. The technology has triumphed. What's exciting is that when you take renewable energy, energy efficiency and smart control systems together, you get a really dramatic shift. Things that we could not have imagined at the start of this journey are now possible."